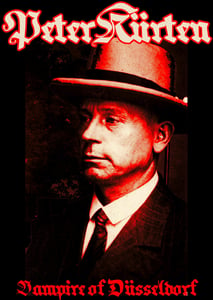 $

17.00
Exclusive t-shirt of Peter Kürten (26 May 1883 – 2 July 1931); the German serial killer known as both The Vampire of Düsseldorf, who committed a series of murders and sexual assaults between February and November 1929 in the city of Düsseldorf.
Front side: tan and red spot color print.
Back side: photo of Peter Kürten's head sliced in half hanging from a meat hook, with quote; printed in tan ink.
Available in both male and female sizes.